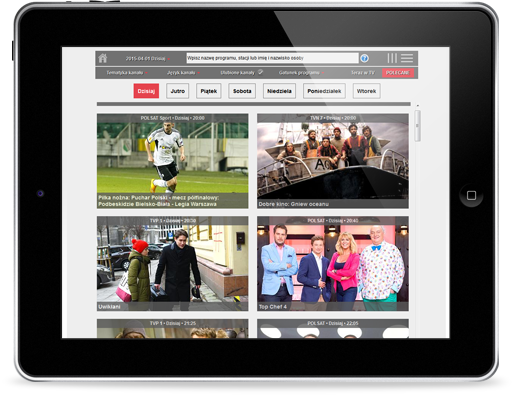 Multi.PRO application is an original, interactive multimedia tool for integration and presentation of selected TV schedules on Customer's website in accordance with global digital media standards:
comprehensive, up-to-date TV programme information
full synopsis coverage
photos
TV trailers (full screen video available)
highlights for the following categories: film, documentary, entertainment, children shows etc.
interactive search engine of channels, programmes and persons
filtering options for programmes and channels according to thematic category or channel's language
"Favourite channels" function
"Now on TV" function
"Other airings" function
"Similar" function
horizontal and vertical views available
text enlargement available
Comprehensive service includes:
license for the application and selected TV channels' schedule presentation by the operator,
continuous supply of up-to-date programme data for selected channels,
photographic illustration of recommended programme highlights and related multimedia,
hosting,
technical support,
personalized interface,
current updates of logotypes for all TV channels presented,
editorial service for TV channels offered by the operator.
It's simple! Become our Customer and gain access to an up-to-date TV schedule database. Our user-friendly search engine will help you find all the information you seek.
More »
We currently have over 650 Polish and international TV stations in our offer. This service is available in a traditional form (for publishers) as well as a database (for EPG systems and web portals).
See the list »