Our offer is addressed to web portals and vortals.
A TV service with over 650 Polish and foreign channels, including synopses and rich with photos and video trailers, is an attractive guide for every Internet user.
We offer TV programme data of the highest quality in all available formats with a freely adjustable number of updates. Detailed specification is always personalized according to the Customer's needs and requirements.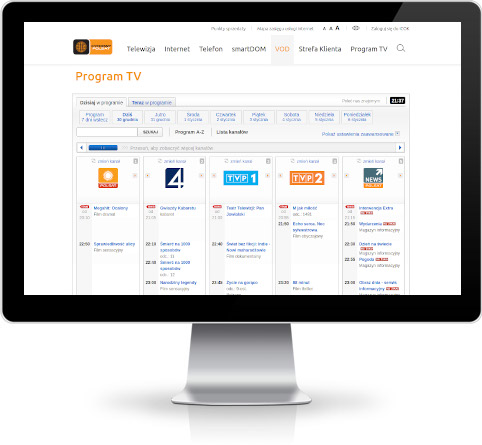 Format standardowo obejmuje następujące informacje: nazwa/numer kanału, data i godzina emisji, tytuł, numer odcinka/serii, tytuł odcinka, gatunek, kraj produkcji, rok produkcji, reżyseria, wykonawcy, dowolnej długości opis, ocena w skali 1/10, czas trwania, kategoria wiekowa, dodatkowe atrybuty. Zapewniamy również wparcie informatyczne na wypadek awarii technicznej.
Chcesz zamówić serwis www na swoją stronę, nie zwlekaj i dołącz do naszych Klientów! Aby otrzymać dane testowe lub zamówić serwis internetowy, wypełnij formularz.
Cenimy sobie szczególnie wysoką jakość danych programowych, a także rzetelność i profesjonalizm, dlatego przez ponad 25 lat działalności wypracowaliśmy sobie uznanie i zaufanie wielu Klientów.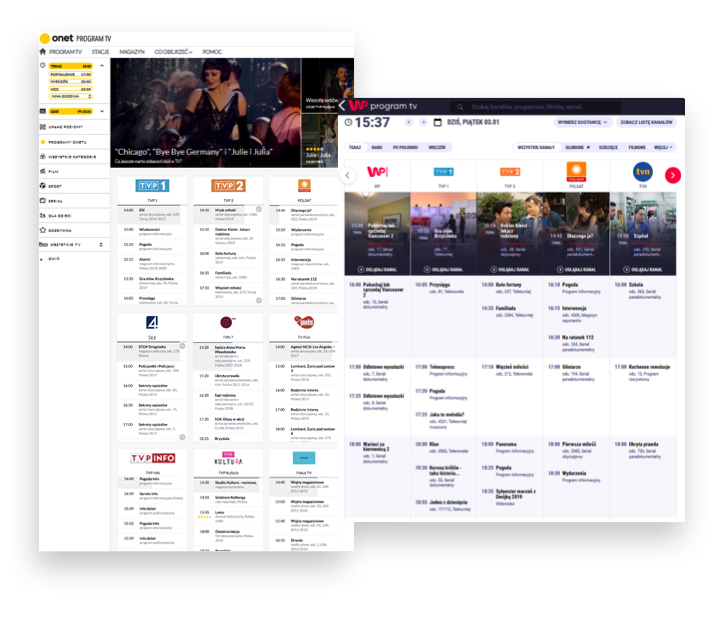 It's simple! Become our Customer and gain access to an up-to-date TV schedule database. Our user-friendly search engine will help you find all the information you seek.
More »
We currently have over 650 Polish and international TV stations in our offer. This service is available in a traditional form (for publishers) as well as a database (for EPG systems and web portals).
See the list »